Signs That You Need a Roof Repair or Replacement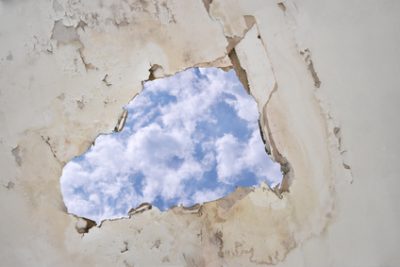 It has been observed that a large number of homeowners remain negligent of roof construction when it's time for home remodeling and reconstruction. Their focus remains on the interior space and exterior façade in most of the cases. As a result, they only come to know about roof deterioration when it faces structural damages and leaks.
This is the reason why National Roofing Contractors Association recommends homeowners to conduct two roof inspections a year. If you haven't looked at your roof for a long time, then it's the right time to find out if it needs any repair or replacement.
Inspect the attic
Start your roof inspection from the inside and have a look at the attic ceiling. Climb there with a flashlight and have a thorough look on the surface. Two major signs indicate that you need a new roof.
A widened beam of sun rays coming through the attic ceiling, which indicates a cracked and disjointed roof structure
Big patches of streaks and strain on the attic ceiling, which indicate significant leaks
Look through the home record
Sifting through home improvement records is another way to find whether it's time to bid farewell to the old roof. For example, a roof made of good quality asphalt shingle has an operational life somewhere between 20 and 25 years. If the roof has already exceeded its useful life, then it's recommended to get it replaced.
Direct inspection of shingles
Apart from going through home records, direct inspection of shingles is another effective way to tell if you require the expertise of professional roof contractors. There are two effective ways to find out if the shingles have completed their term.
If they are not lying flat against the roof and you are noticing cracks and chips over a large area.
Check the downspouts for shingle granules. A large buildup of granules means that the shingles have completed their useful term.
Look for sagging
Exposure to moisture for a long period of time can cause rotting in the underlying boards of the roof. This can result in saggy and droopy patches on the roof. If you notice any such spot, immediately get an appointment from any good roof contractor. A sagging roof can turn into a big home disaster at any instance.
Vegetation on the roof
Plants only look good in the gardens and lawns. If it starts growing on the roof, then it indicates the presence of gaps and moisture within shingles. In most of the cases, moss starts to grow in between weary shingles. Similarly, the growth of mold and fungi at the rooftop also indicates that your roof needs a repair or replacement.
If you encounter any signs of roof damage, there is no need to panic. Consult any experienced roof contractor to know how the issue can be resolved. A & L Flat Roof Repair provides exemplary roofing services in the Metro-Detroit area. Whether it's a minor repair or complete replacement, the company's expert contractors can take care of every roofing problem. Give us a call at (586) 777-1477.