Three Types of Flat Roofs and Their Benefits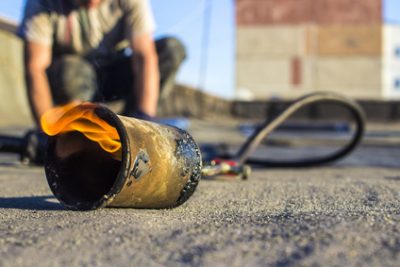 When it comes to our homes and business one major element owners often take for granted is their roofing. Roofing takes daily abuse from the elements and often requires maintenance to ensure it will last for years. Many owners dread roofing repairs because of the cost and the time needed.
That's why it's so important to choose a roof that meets the needs of your home and business. Once you have your roof selected, having trusted roofing contractors can help with maintenance and repairs, taking some of the stress away from you. Your roofing contractors can help you to maintain your roof for years to come and ensure you get the most out of your roofing option.
Why People Choose Flat Roofs
One popular roofing option for many homes and businesses is flat roofing. Just like its name, flat roofs are roofs without the slope that traditional roofing has. One great advantage of flat roofs is the low-cost installation associated with it. Compared to other roofing options, having a flat roof installed and maintained is relatively cheap.
Three Common Types of Flat Roofs
There are three main types of flat roofs that people consider for their roofing needs. Understanding each type and their benefits will make it easier for you to decide which type will work for you.
EPDM Roofing. This roofing is made from recycled rubber material and is one of the newest methods of flat roofing. Since EPDM is made from recycled material, it's an environmentally friendly option. More than that, the rubber material used can help insulate your roof and attic, effectively cutting back on heating and cooling costs. One major concern that people have with flat roofs is leaking due to standing water. EPDM is waterproof making leaks a rare occurrence.
Built-Up Roofing (BUR). BUR roofing is the oldest type of flat roof that has stood the test of time. This method of flat roofing uses tar and gravel to create a waterproof layer on your roof. This durable roofing method can last between 10 to 15 years with regular maintenance. The use of gravel offers protection against water and UV rays which may otherwise cause damage to your flat roof.
Modified Bitumen Roofing (MBR). This roofing method is much like the previously mention BUR method, but with added wear layers or cap sheets for added strength and durability. MBR is applied in a way that creates large, seamless areas on your flat roof. Due to its application method and the use of added layers, MBR flat roofs are a durable and low maintenance option. The material used in MBR roofing is recyclable at the end of its lifespan, making them environmentally friendly as well.
Don't Forget Regular Maintenance
Roofing is something that you never want to take for granted. It's important to choose the right roofing option for your needs and to properly maintain it. If you need help with maintenance for your flat roof, it's important to reach out to trusted roofing contractors. With over 25 years of experience, we're proud to offer our services to help you repair and maintain your flat roof. Give us a call today at (586) 777-1477 to see how we can help you extend the lifespan of your flat roof!