Sterling Heights Flat Roof Repair Contractor Lists 5 Common Reasons for Water Ponding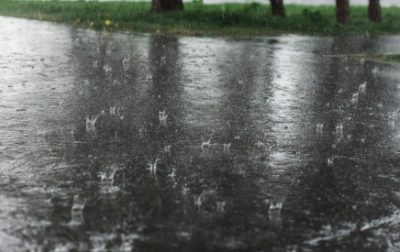 When any water from precipitation remains on your flat roof for over 48 hours, this is considered water ponding. Since water ponding is often the cause of flat roof leaks and other damage, learning that your roof is collecting water in these low spots is usually dreaded news for the owner of the building.
Ponding can be a result of a poor installation from an inexperienced contractor but that's not always the case. Even the most careful flat roof installation may have water ponding at one point or another.
Here are 4 reasons why you may be experiencing water ponding on your flat roof.
Building Settling
Settling is a natural process that occurs over time, causing your home or place of business to slightly sink into the ground. During the settling process, the entire building may become uneven over time. Often when we think of settling, we think of the occasional floor joists creaking, but these changes are often reflected in the flat roof which can develop low spots over time.
Improper Drainage
If your flat roof doesn't have the right slope and proper drainage system, including working gutters, rainwater will not have anywhere to go and will eventually create a pool of water on top of your roof. Any water that sits on your flat roof for even just a few days can create a low spot, deterioration and eventual leaks. It can happen that quickly from just one rainstorm. And unfortunately, every time it rains in the future, you will experience water ponding in that area.
Roof Top Units
Roof top units such as air conditioning units and skylights may be the reason behind water ponding if they do not have the proper insulation around them, called "crickets". Crickets are structures that help divert water away from these obstacles like HVAC units. Otherwise, roof top units will prevent water from flowing past the curb around the unit, eventually resulting in ponding water.
Compressed Roof Insulation
If your insulation isn't sealed correctly or if it undergoes unusual compression, the integrity of the insulation's structure is compromised and can create low spots on your roof. This can happen if the roofing membrane is damaged and water leaks through to the insulation causing it to become waterlogged.
I Have Water Ponding and Need a Sterling Heights Flat Roof Repair Contractor
The best way to prevent water ponding and leaks is to hire a flat roof contractor to perform regularly scheduled maintenance so that you catch any ponding water issues early, before it can cause damage to your roof. If you are already experiencing water ponding and you are searching for a flat roof repair contractor in Sterling Heights, Michigan, contact A & L Flat Roof Repair as soon as possible by calling (586) 777-1477.
A & L Flat Roof Repair is a flat roofing company located in Macomb County that has been providing commercial and residential flat roof repair and maintenance in Metro Detroit for over 25 years. Call us today!