Signs Your Wyandotte Flat Roof Has a Leak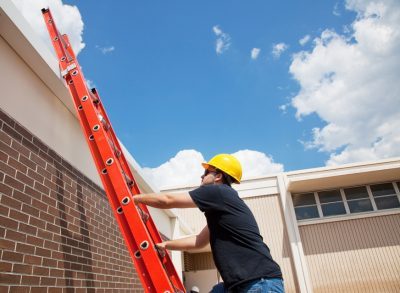 No one likes to think that their home or business needs repairs, especially when it comes to the roof of those buildings. In fact, many homeowners and business owners dread the thought of having to replace their roof because of the cost and time associated with it.
The best way to maintain your Wyandotte flat roof is to perform regular maintenance and watch for signs of a problem. Catching a problem with your roof early can eliminate the need to have your roof completely replaced. One common issue with many roofs are leaks caused by standing water or damage to the structure of the roof. If you know what signs to look for, you could potentially catch a roof leak and have it repaired before it causes irreparable damage.
Four Signs To Watch For
Understanding what to look for when trying to catch a roof leak can help save you money down the line. Here are four signs that your flat roof may have a leak.
Dripping water or puddles. Visibly seeing water dripping down the interior of your home or business is the most obvious sign that your flat roof has a leak. However, many homeowners will wait to have repairs done to their roof, even with this obvious sign. It's never smart to leave a leaking roof in disrepair, as the damage can spread.

Damage to the interior of your home or commercial property. Even if you don't actually see water dripping down the interior of your walls, there can still be other visible signs of damage. These signs include peeling paint, discoloration of walls, and bubbling below the surface of the paint.
Mold or mildew growth in the home. Often trapped moisture can lead to mold or mildew growth in your home. Mold isn't something that should be taken lightly, as it can cause many respiratory issues. If you notice mold or mildew spreading in your home, it's important to determine the cause of the built up moisture, including the possibility of a roof leak.
Problems with electrical circuits. Most business owners and homeowners don't associate electrical problems with a leaky roof. However, if water drips down into the electrical circuits, it can cause electrical shortages. If you've checked the wiring and everything is in good standing, there's a possibility that the problems with your electrical circuits are being caused by a leak.
Preventing Leaks In Your Flat Roof
The best way to prevent leaks in your flat roof is to have regular maintenance and inspections done. Allowing a professional to inspect and remove any debris which can cause damage to your flat roof can prevent a leak before it even occurs. Many flat roof owners have regular maintenance down twice a year to ensure that their flat roof is still in great condition.
If you do notice any of the signs that your flat roof is leaking, it's important to reach out to your professional flat roof contractors. Letting a leak linger can cause structural, electrical, and health problems. Don't let your Wyandotte flat roof fall into disrepair. Give A and L Flat Roof Repair a call at (586) 777-1477 for your regular maintenance and emergency repairs!