Royal Oak Flat Roof Contractor Discusses Repairs vs Replacements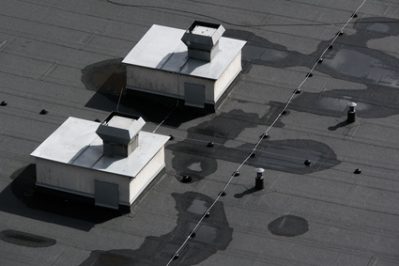 Over the years, many commercial flat roof buildings will eventually get damaged from severe weather, age and other environmental factors. Or, if the roof was improperly installed, the lifespan of the roof will decrease significantly. But how do you know if it's time for a roof repair or a replacement?
Unfortunately, this is not always a straight forward answer, so it's best to contact a Royal Oak flat roof repair contractor and have them inspect your flat roof before you make any decisions.
However, keep reading to learn general factors that may determine a repair or replacement.
When To Replace Your Flat Roof
If the flat roof is older and has reached the end of its typical lifespan, you may need a replacement, especially if you are experiencing other issues such as leaks, mold or structural problems. Flat roofs will typically last up to 25 years if they are properly installed and maintained.
Improper installation is another main reason you may need a replacement. For example, a common construction mistake is improper drainage. Poor drainage can result in ponding water, which can damage roofing materials resulting in leaks and water rot.
Ignoring a small leak and not having it repaired can also result in a roof replacement. So if you have had a leak for a long period of time, you may be looking at replacing your roof. For this reason, it is crucial to address a leak as soon as possible.
If your roof is made of tar and gravel, it can be difficult to find the source of the leak and repair it which may result in a replacement as well.
When To Repair Your Flat Roof
If your roof system has been installed properly and is still within its expected lifespan, then you may be better off with a repair.
Determining how much damage is done to a roof is the first step. In many situations, a simple silicone repair is all you need.
If you have a small leak that was discovered shortly after it started a roofing contractor can often patch over the worn areas. You can also ask your roofing contractor to seal the entire roof for more protection and a longer roof lifespan.
It's very important to keep up with regular inspections so that if there is a problem, it is discovered immediately while it is still repairable. Oftentimes, ignoring a small repair for a long period of time will eventually require a full roof replacement.
Call a Royal Oak Flat Roof Repair Contractor Today!
Do you have cracks or leaks in your flat roof but you are not sure if it calls for a repair or replacement?
Contact the roofing experts A & L Flat Roof Repair today to schedule a free quote for a Flat Roof Repair in Royal Oak, MI. For over 25 years, A & L Flat Roof Repair has been providing commercial and residential flat roof repair and maintenance in Royal Oak as well as the entire Metro Detroit. Give us a call A & L Flat Roof Repair Today at (586) 777-1477.