Roseville Flat Roof Contractor Explains How to Extend the Life of Your Flat Roof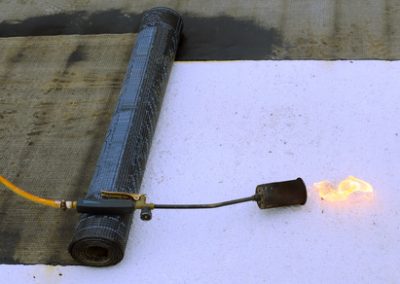 If properly installed and maintained, your flat roof should last you 25 years or longer. So what exactly does it mean to properly install and maintain your flat roof?
Hire a Contractor Specializing in Flat Roofs for the Installation
It all starts with the installation. Construction mistakes will surely result in leaks and other problems, whether it happens immediately or a few weeks down the road.
Many homeowners and business owners make the mistake of hiring a general contractor instead of a flat roof contractor because they think it will save them a little money. However, even though general contractors may have some knowledge of flat roofs, they won't have the same experience in the nuances and complexities of the average roof. Certain installation problems can go overlooked, causing leaks or structural damage sooner than later.
You must also be wary of inexperienced flat roof contractors, as you will likely have the same type of installation problems down the road. Always ask for references, read online reviews and be sure to ask the roofing contractor to provide proof of licensing and certifications.
Apply a Waterproof Sealant to The Flat Roof
Rainwater can cause more problems for flat roofs than pitched roofs because they don't have as much of a slope for the water to run off. Many flat roof surfaces are porous, inviting in leaks, mold, and bacteria – especially if your roof isn't draining properly.
Applying a sealant to the flat roof can protect it from rainwater and other elements, such as snow, sleet, hail and extreme temperatures. Consult with a Roseville flat roof contractor to find out which type of waterproof coating is best for your flat roof material.
Schedule Regular Inspections
A consistent roof inspection schedule should be in place so that any small cracks or repairs do not develop into a larger repair or replacement.
Talk to a flat roof repair company about what maintenance programs are available. You should have your roof inspected once in the winter and once in the summer. Reason being, a small problem will not remain a small problem for long!
You should also make sure your gutters are inspected as they can be easily blocked by leaves and other debris, especially in the fall. Installing a leaf guard on your gutters will prevent the buildup a little, but you will still want to include the gutters in your inspection.
I Need to Hire a Flat Roof Contractor in Roseville, MI
By following these tips, you should be able to extend the life of your flat roof for years. The key is to rely on a flat roof professional for both installation and maintenance. If you are looking for an experienced and reliable flat roof contractor in Roseville, contact A&L Flat Roof Repair today. We have been providing flat roof repair and maintenance services in Metro Detroit for over 25 years. Call A&L Flat Roof Repair today at (586) 777-1477