Repairing Your Detroit EPDM Rubber Roof This Winter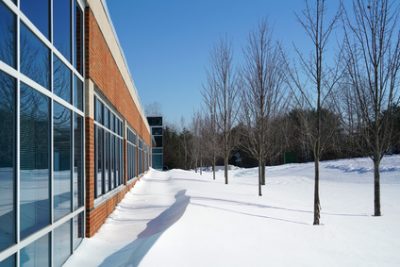 Many business owners focus on snow removal and preventing ice from building up on their walkways in the winter months. While both of those tasks are important for the safety of your employees and clients, that's not the only area that you should focus on this winter.
One very important element of your commercial property is your roof. Ideally, regular maintenance should be performed bi-annually to ensure that your rubber roof is in great condition through every season. However, unforeseen circumstances can occur at any time. It's especially important to have your Detroit EPDM rubber roof repaired this winter so that built up moisture won't create an even bigger problem.
Why You Shouldn't Wait to Have Your Roof Repaired
Winters in Michigan are extremely cold and wet. Snow, ice, and frigid temperatures create problems for even the most meticulously maintained roofs. Damage like cracks in your roof or leaks should always be quickly resolved for several reasons.
The damage can spread. If you have a crack in your roof, the freezing temperatures and ice can cause that crack to quickly spread across your roof. A simple repair job can turn into a major issue that could require you to replace your roof.
Leaks can compromise the stability of your roof. Leaks that are left without being properly repaired can seep down through the layers of your roof and damage the structure of your roof itself. This is especially dangerous because severely damaged roofs can collapse.
Mold and mildew may start to grow. Built up moisture can cause mold and mildew to grow in your commercial property. This is a hazard for employees and clients alike and in most cases can be prevented by determining the cause of the moisture and repairing as needed.
The cost of your utilities could skyrocket. Any tears or leaks in your roof means that your commercial property is being exposed to the elements. During the winter months, that could cause your heating bill to go up significantly.
The Good News About Rubber Roof Repairs
If you notice any signs of damage to your Detroit rubber roof this winter, there's no need to stress. The great thing about rubber roofs is that the repairs are often simple, even in the winter months. Allowing your flat roof contractors to repair any damage can save you money down the line.
When you call your flat roof contractors for repairs, the first thing they will do is assess the damage to determine the cause. If a leak is being caused by a tear in the membrane of your roof, that tear can be patched to create a watertight seal. Even with the freezing temperatures, your roofing experts can heat the adhesive glue to ensure that it properly seals.
Call Metro Detroit's EPDM Rubber Roof Repair Experts
Knowing how to repair your Detroit EPDM rubber roof this winter comes with experience. While the repairs may be simple, they should always be performed by a professional to ensure that your rubber roof continues to serve you and your company for years to come.
Here at A and L Flat Roof Repair, we have over 25 years of repairing and servicing flat roofs! If you notice any signs of damage to your Detroit EPDM rubber roof this winter, don't hesitate to give us a call at (586) 777-1477.