How to Prepare Your Flat Roof for the Winter Season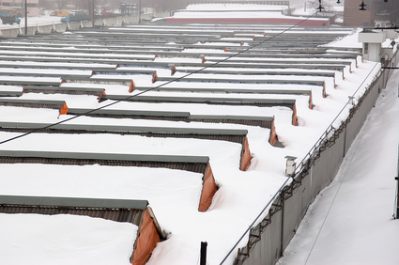 The winter season is upon us. Have you done everything on your start-of-winter checklist?
Prepare the car – check!
Shop for gloves and jackets – check!
Prepare your flat roof for winter – not checked?!
Why not? If you haven't done this already, you should. After all, you definitely want to avoid roof issues that appear in the dead of the winter season.
Don't worry! We are here to help you out. Here are the steps that will help you in preparing your flat roof for the winter season:
Roof Inspection
The first thing that should be in your to-do-list is scheduling a roof inspection. And no, when we say roof inspection we don't mean that you should inspect it by yourself. You need a professional to look for any potential or existing damage that might harm your roof. It is essential to get the problems fixed right now because once the snow hits, it will only exaggerate the issue.
Common issues on flat roofs are:
Loose or open seams
Failed sealants and cracked caulking
Separations or gaps
Rusted or cracked flashings
Loose roof perimeter or edge
Punctured membrane
Clear the Debris Away
Once the contracted has inspected your roof and gave it an all clear, it is time for you to put on your cleaning gloves and clear the debris away. Anything that has no business being on your roof like trash, leaves, branches, or other equipment needs to be removed. Anything extra on your roof is a potential hazard that could cause damage to your roof.
Make sure that you don't forget to clean the downspouts and gutters as well. Debris, twigs, and leaves can clog the drain and prevent the water from drainage.
Pay Attention to the Surroundings
Cleaning the roof is not enough. You need to make sure that it remains clean throughout the winter season. For that, you need to evaluate the surroundings. Look for the things that can affect your flat roof.
The trees around your property are a potential hazard. The weight of the snow or strong winds can cause them to break. The snow from your neighbors' roofs can also drift to your roof.
Keep all these things in mind and remember to check your roof every other day to avoid any mishaps.
Know All the Information
In case there is an emergency, you need to know all the important information so you won't get caught unaware. If you have a warranty with your current roofing, make sure that you look at what is covered and what is not.
Get in touch with a contractor to find out if repairs are needed in mid-winter and how much you will have to pay to get it fixed.
Have an Action Plan
Make sure that you have all the warranty papers and phone numbers handy, in case there is an emergency. Also, always call a professional contractor to make sure that your problem is solved properly. An inexperienced team can make the problem worse, and we are sure you don't want that.
For more information about flat roof inspections, give A and L Flat Roof Repair a call. We can be reached at (586) 777-1477. We hope to hear from you soon!