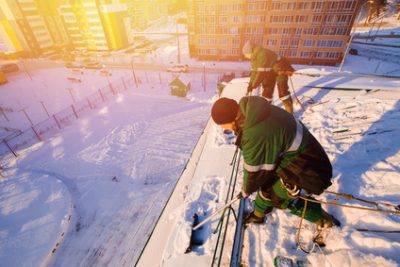 When it comes to flat roofs, people are still harboring some misconceptions. One of those misconceptions is that when compared to a pitched roof, flat roofs leak more. Another one of those misconceptions is that the flat roof is not for the snowy areas as the snow settles on it and the roof can't handle the weight.
Let us set the record straight once and for all – these are just misconceptions. If you have or are planning to get flat roofs, you don't have to worry about these things.
Insulation and Weight
If you are a resident of a place with a cold climate, you need a thick roof with plenty of padding or insulation. That way, the chances of cold creeping inside your house will be less and your house will remain warm and toasty. A thick roof can be able to withstand any amount of snow and not give you any grief.
In a way, the flat roof on your house will actually help increase the warmth inside. You must be wondering – how is that even possible? Well, when the snow will settle in on your flat roof, it will actually add to the overall padding.
In order to get the best results, you have to make sure that the roof is installed in the right way. Always hire professionals to do the job for you.
Drainage, Leaks, and Maintenance
The leaks in your roof depend on its maintenance, not the fact that it is flat or pitched. When properly maintained, the chances of leaks are slim. The leakage also depends on the quality of the installation. If there are no mistakes in the installation, you will not have to worry about leaks.
During the time of installation, the flat roofs must have a slight slope to help with the drainage of water. The scuppers, as well as the drain, must be cleaned regularly, or the water will not drain properly, increasing your chances of getting water damage on the roof and leaks.
In a way, flat roofs are more effective than pitched ones because their material is actually made from membranes that are weather-proof. This material is superior because it is larger in size as compared to shingles.
Flat roofs are more practical than the pitched ones and more and more people are turning towards them. To make sure that you don't run into any problem, it is important that you keep your flat roof properly maintained.
Integrate with Nature
If you live in a city, you might be conflicted about having a flat-roofed house. Since most of the houses in city neighborhoods have pitched roofs, you might feel like the odd one out. However, a lot of people are going against this convention these days.
If you are living in the country, then a flat roof is the best option for you. A flat roof will give you chance to integrate with nature more as it breaks up the scenery less as compared to a pitched roof. You will have a clearer view of the beautiful sights of nature around your house.
For more information regarding commercial flat roofs and residential flat roofs, give A and L Flat Roof Repair a call today at (586) 777-1477!