Different Flat Roof Material Options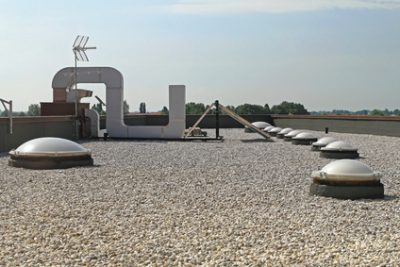 Due to its design, a flat roof is considered ideal for commercial and residential properties. However, its construction can go wrong if the right material is not used. From recurrent leaks to untimely erosions, a faulty flat roof construction can lead to a number of issues. Therefore, over a long course of time, roofing experts have come up with a variety of materials that can go fairly well with the construction of a flat roof. Let's have a look.
Single layer polymer membrane roof
Membrane roofs are primarily made from different type of polymers. In technical terms, they are known as single-ply elastomeric membranes. This variant of roof material is relatively a newer option.
Different polymer variants are used for the construction of single layer membrane roofs. For instance, polychloroprene, PVC, EPDM, and chlorinated polyethylene are the polymer variants used for roof constructions. Among these options, EPDM, also commonly known as synthetic rubber, is the most common roofing material in both commercial and residential sectors.
Just ask any roofing contractor to install a single layer membrane roof and they will go with EPDM sheets. EPDM sheets come in various thicknesses and can withstand high temperatures. EMDP roof material also provides effective insulation against water seepages. Many experts consider single polymer membranes a better option than built-up roofing.
Built-up roofing material
Commonly known as BUR, built-up roofing material has been around for more than 100 years. This roofing material is actually made of asphalt or bitumen and applied in multiple layers through a hot mop. As one layer dries, another layer of hot coal tar is applied to it. After multiple layers of asphalt are applied one over the other, the assembly is finally covered by crushed stone granules for protecting the BUR construction from UV lights and the wear and tear of weather.
Modified bitumen
Nearly 50 years ago, roofing contractors came with a modification in typical BUR constructions. They added polymer enforced cap sheets to the original composition of BUR to provide it with more elasticity and stability against temperature changes. The polymer material used in modified bitumen is particularly produced for this purpose. The addition of polymer to the bitumen actually gives it rubber-like characteristics. Modified bitumen roofs have become really popular among both commercial and residential property owners for many of their benefits.
The addition of polymer as a reinforcement in the mix of bitumen makes the roof resistant to any type of tear. For flat roofs that have to bear high foot traffic, modified bitumen roofs are recommended.
The combination of polymer and asphalt makes for a formidable resistance against leakages. Therefore, modified bitumen is considered the most water-resistant roof material option.
By bearing good value of solar reflectance, modified bitumen roofs can prove to be energy- efficient for all those regions that experience scorching summer season.
Want to know what roofing material option will best suit your property? Get in touch with A and L Flat Roof Repair. The company's years of experience will come in really handy for installation of both commercial and residential roofs.
Give us a call today at (586) 777-1477!