4 Reasons to Address a Leaky Roof As Soon as Possible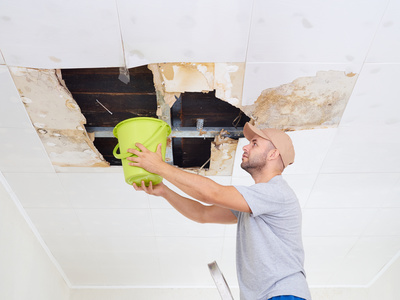 Many people do not pay enough attention to the roof of their home or place of business in Metro Detroit. Instead, money is often spent on painting and other interior enhancements before investing in their roof. However, the roof is one of the most important components of a building.
If you happen to notice any signs of a leaky roof, it is crucial to address them as soon as possible before it becomes a dangerous and costly repair. Keep reading to learn about the potential consequences of ignoring a leaky roof and why you should contact a Metro Detroit flat roof repair company as soon as possible.
Flooding and Structural Damage
Once a roof starts leaking – even if it is just a small amount, it won't stop unless the roof is repaired. A leaky roof will not mend itself. Instead, it will continue to expand and allow even more water to pass through. More importantly, if a leaky roof is not addressed immediately, eventually it can lead to flooding or structural damage, such as a collapsed ceiling, which can be detrimental to your home or place of business.
Increase in Energy Bills
The opening in your roof that is causing the leak is letting more than just water in. Cold air will get through in the winter just as warm air will creep in during the summer months. As a result, your furnace or air conditioning system will work overtime – which means higher utility bills that drain your wallet.
Mold and Moisture Problems
Wet insulation is a breeding ground for mold, and it's not unusual to find mold and bacteria growth on a roof that is leaking. Unfortunately, mold is more than just an inconvenient nuisance. Mold is a serious problem that is extremely difficult and costly to eradicate and can cause serious health problems for those occupying the building.
Fire Hazard
A leaky roof can potentially cause a fire if it reaches the electrical wiring in your home or business. Turn off the electricity in the affected area immediately, contact an electrician and a Metro Detroit County flat roof repair contractor as soon as possible to prevent a fire or further leaking from occurring.
Is it Time to Contact a Flat Roof Repair Contractor in Macomb County?
It is crucial to contact a flat roof repair contractor at the first sign of a leak to ensure all occupants safe and prevent any further damage. Ignoring even just a small leak can result in flooding, structural damage, mold contamination, higher energy bills, fire hazards and even health issues.
The good news is that help is just a phone call away. Contact a commercial flat roof repair contractor such as A&L Flat Roof Repair at (586) 777-1477.
A&L Flat Roof Repair has over 25 years of experience in providing the best commercial flat roof repairs in Metro Detroit.
I Need a FREE Quote from the Best Flat Roof Repair Contractor in Metro Detroit!
Call A&L Flat Roof Repair Today at (586) 777-1477. We are Metro Detroit's Choice for Commercial Flat Roof Repair!