3 Reasons You May Need Flat Roof Repair for your Commercial Building in Warren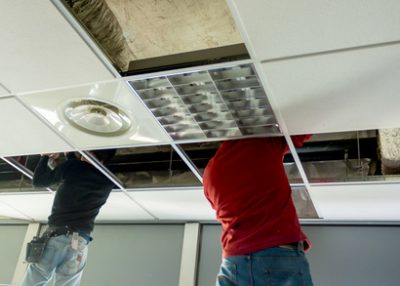 Do you have an older commercial building in Warren, MI that is in disrepair? If you have a flat roof, chances are, even if the roof was properly maintained, there will come a time when it will need to be replaced or repaired. Here are the top three reasons why your commercial flat roof may be falling apart.
1. Weather Can Be Harsh on Your Roof
Weather can have a significant impact on your commercial roof. For example, if high winds cause a tree to fall on the top of your roof, it could possibly cave it right in. Harsh weather for an extended period of time will destroy the integrity of any structure and unfortunately, your roof is not immune from mother nature.
Precautions can be made by adding a tar cover or a silicone coating to prevent water damage. Consult with a flat roof contractor that services Warren, MI and see if your roof is properly sealed and protected from severe weather. Also, make sure any surrounding trees aren't too close to the building.
2. Construction Mistakes
Improper installation and construction mistakes are a huge problem when it comes to repairing any structure. If you hired a flat roof contractor that did not use the correct sealants or did not follow specific construction guidelines, you may find leaks, mold and other serious problems shortly after the installation. Always do some extra research on the flat roof contractor before you hire them. Make sure they are licensed, insured, and have all of the proper certifications. Also, visit their social media profiles to read reviews from previous customers.
3. Beauty Does Not Come with Age
Another reason you may have to repair your flat roof is simply age. If you own an older building in Warren with a flat roof, deterioration is a common problem. The life expectancy of a flat roof is close to forty years. However, within this time frame, the integrity of your roof may start to diminish, creating leaks and inviting in unwanted bacteria such as mold. Mold growth can make your flat roof extremely difficult and costly to repair. In some cases of mold, you may even need to replace your entire roof as it can cause respiratory issues and other major health problems.
I Need a FREE ESTIMATE from a Roseville Flat Roof Repair Contractor
If you have any signs of roof damage in your commercial building in the Warren area, time is of the essence. Small leaks can expand and get worse resulting in structural problems and any mold growth could cause serious health problems. Also, if you have a leak near any electrical wiring, this can be a dangerous fire hazard.
If you are looking for an experienced and reliable flat roof repair contractor that services the Warren, Michigan area, the A & L flat roof repair crew is experienced in commercial flat roof repairs of virtually any size.
I Need a Free Quote for a Commercial Flat Roof Repair in Warren, MI
Contact A&L Flat Roof Repair today at (586) 777-1477 to schedule a FREE ESTIMATE for a flat roof repair for your commercial building in Warren, MI.